1-Year PDF Subscription: $109/yr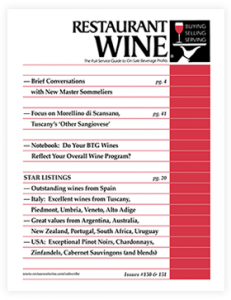 All issues are sent by email as PDF files.
You must enter an email address in order to receive your subscription.
On the next page, you will review and confirm your order.
Order up to 10 subscriptions on the next page
Why Subscribe?
Restaurant Wine offers exclusive wine recommendations, wine reviews, wine industry profiles, wine training tips and more. It is available only by email (PDF document). Subscribe and receive indispensable advice and insight on:
On-Premise Wine Trends: What's popular in wine, what's emerging, what's on the horizon.
Practical Consulting Advice: To promote wine more effectively and profitably.
Restaurant Industry Profiles: Meet sommeliers and wine directors behind some of the most dynamic wine programs in US restaurants.
Wine Training Tips: Convert servers into wine sellers with proficient wine training.
Regional Wine Updates: Wine types/categories making in-roads on-premise.
Top Wine Recommendations: By price category, from major wine regions and varietals, by the best palate in the business.