This is an excerpt from Restaurant Wine, Issues #175-177 (Sept-Dec 2017, Jan-Feb 2018).
---
Expert Wine Recommendations & Reviews by Ronn Wiegand
The wine tasting table of contents from issues #175-177, along with introductory comments by Restaurant Wine editor and publisher Ronn Wiegand.  Recommended wines are among the best of their types available, within their respective price categories, and are worth seeking out.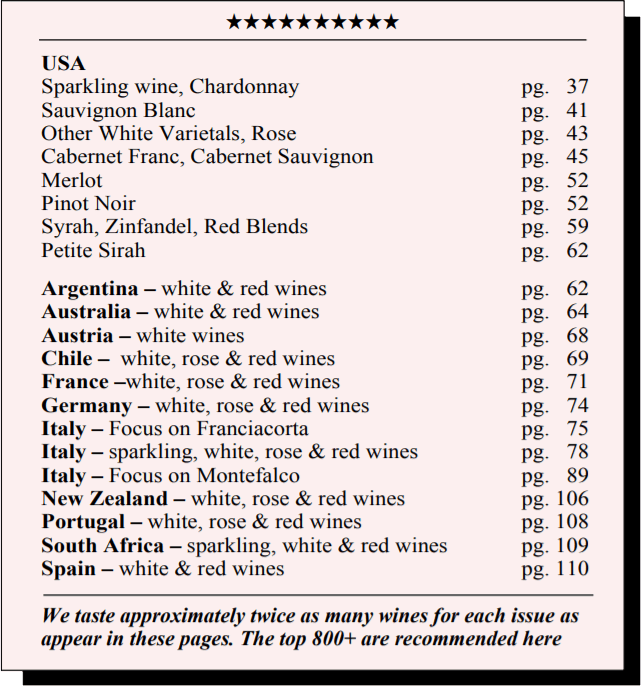 Wines & Wineries to Watch
USA—2015 California Chardonnays are some of the state's best ever. Some of the finest—in different styles, from different AVAs, and at different price points—include those from Bouchaine (superb unwooded), Dutton-Goldfield (character—and grace), Grgich Hills, Hyde and Sons (complex, refined), Morgan, Steven Kent, and Three Sticks (is Durell Origin the Chardonnay of the vintage?) . . .2016 Sauvignon Blancs are impressive; try those from Blackbird, Trinchero, and Wrath. And don't forget to reach back for the outstanding 2015 Mirror . . . Two exceptional white blends not to miss are those from Anaba (Turbine) and Eponymous (Proprietary White Wine) the former, a Rhone-inspired blend; the latter an original—and stunning—Pinot Blanc blend . . . More outstanding roses are being produced in California than ever before. Two of the best—both made from Pinot Noir—are the 2016s from Bouchaine and Kanzler.
Washington State enjoyed an excellent red wine vintage in 2014. Cabernet-based wines we are especially impressed with include those from Columbia Crest (Walter Clore Private Reserve, Cabernet Sauvignon Reserve), Chateau Ste. Michelle (Ethos, Artist Series), and Columbia Winery (Red Mountain) . . . 2014 was also an excellent vintage in California, where hundreds of producers made terrific Cabernet-based wines. Strongly recommended here are those from Corley (best reds, ever), Stanton (classic), and Steven Kent (Ghielmetti Vineyard, more than Livermore), among others. But do not overlook 2013 California Cabernets and Cabernet blends. Wonderful wines currently available include those from Mirror (top quality, not price), Sodaro Estate (harmonious), Thomas-His (truly extraordinary), and Trinchero (great quality and value), which are among the best ever from these producers.
---
This is an excerpt from Restaurant Wine, issues #175-177 (Sept. 2017-Feb. 2018).
Annual PDF subscriptions are $109 per year. Visit our subscription page to place your order today. Also, browse our complete back issue collection by topic to buy individual back issues for particular inspiration.
Restaurant Wine is published by Ronn Wiegand, one of four people in the world to hold the titles of Mas